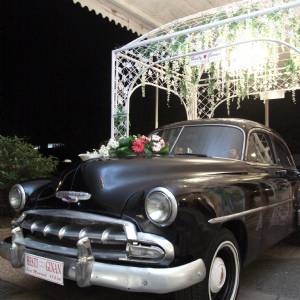 Deomah Classic Cars & Photoworks
Wedding Car Rental
Semarang
Wedding Car Rental
Semarang
About
Back to the classic 50's for photobooth, events, wedding, & party with Deomah
Mobil vintage klasik bergaya khas amerika yang akan membawa anda ke tahun 50-an. Ideal untuk pernikahan vintage dan semua gaya acara elegan lainnya, ini adalah cara sempurna untuk menyempurnakan resepsi Anda, menghibur tamu Anda, dan memberi mereka kenang-kenangan unik yang akan bertahan seumur hidup! Selain itu, kami menawarkan alternatif yang sangat unik untuk bilik foto standar.
So ... Our classic car takes you back to the 52's and can be combined with other photographic services to create a complete package for your event.
Service.
Wedding Classic Car With Drive, Terms and Conditions Apply.
Vintage Classic Car Photo Booth With Chevy Deluxe 52 Other Packages Included.
Coorporate Promotions Ideal For Advertising, Photo Booth Promotion Company, & Commercial Photography.
School YearBook.
Want to reach out about price list, rent, collobration, wedding ideas for your photo booth and others. Call us now!
Email faturoz@duck.com