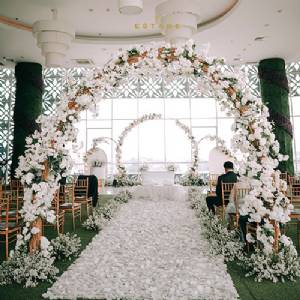 The Vida Ballroom Kebon Jeruk
Wedding Venue & Restaurant
Jakarta
Wedding Venue & Restaurant
Jakarta
About
The VIDA Ballroom menawarkan ruang prestisius untuk acara pribadi Anda, pesta mewah, pesta pernikahan internasional / pesta pernikahan tradisional yang menjadi kenangan terbaik, acara lamaran (enggagement), acara akad nikah / ijab kabul, pesta ulang tahun, pesta perayaan, halal bihalal, reuni sekolah, prom night, workshop, seminar, gathering, pelatihan karyawan atau acara perusahaan lainnya.
The VIDA Ballroom dapat menampung 800 hingga 1.000 orang dengan model standing party, sehingga Anda dapat melaksanakan pesta pernikahan, acara keluarga maupun acara perusahaan dengan leluasa, dapat diatur sesuai kebutuhan Anda.
The VIDA Ballroom berada di lantai 10, bagian paling atas gedung The VIDA, dengan pemandangan luas langit Jakarta pada siang hari dan gemerlap lampu kota metropolitan pada malam hari. Foyer city view dari The VIDA Ballroom merupakan satu-satunya di daerah Jakarta Barat. Serangkaian acara layak dinikmati dengan makan siang atau makan malam sambil melihat pemandangan kota (cityscape).
Untuk Pesta Pernikahan, The VIDA Ballroom juga telah didukung oleh vendor pernikahan yang profesional dan ahli di bidangnya seperti, wedding organizer, katering pernikahan, dekorasi pengantin, bridal & groom, souvenir, undangan, entertainment, make up artis, dan masih banyak lagi.
The VIDA Ballroom dilengkapi berbagai fasilitas pendukung seperti Pre-function Hall, Multi-function room, Luxury Bride Room, Ruang VIP, Ruang Make Up, Area Parkir mobil & motor yang luas, Sound System, LCD Projector, Lift, Toilet, Keamanan. The VIDA Ballroom juga mudah diakses dari tol Kebon Jeruk, menggunakan transportasi umum seperti Transjakarta, Jak Lingko & moda transportasi online, dan hanya 30 menit dari Bandara Internasional Soekarno Hatta.
The VIDA Ballroom merupakan pilihan tepat bagi Anda yang membutuhkan sewa gedung pernikahan atau ruang pertemuan di daerah sekitar Kebon Jeruk, Jakarta Barat. Silahkan hubungi Tim The VIDA Ballroom, kami dengan senang hati akan membantu melaksanakan acara Anda.
Jl. Raya Perjuangan No. 8, Kebon Jeruk (300 m dari exit Tol Kebon Jeruk)
Jakarta
Phone: +622129508993
HP: +6281212695519
Email: sales.tvb@gmail.com