Setiap perjalanan cinta dapat menjadi cerita yang memiliki esensi dan pesona tersendiri. Dengan sentuhan kreatif yang dipersonalisasi melalui sebuah konsep menarik, sebuah pernikahan dapat menjadi karya visual yang dapat dinikmati jauh ke depan.
Bagi Behind The Vows, konsep pernikahan adalah bagaimana caranya mereka menceritakan kisah cinta pasangan dengan menghubungkannya lewat seni dan kreativitas. Setiap cerita 'sekali seumur hidup' setiap pasangan itu unik dan karya visual ini akan menjadi narasi dari momen indah kisah cinta sepasang mempelai yang menghangatkan hati.
Penggunaan bunga dalam dekorasi pernikahan menjadi keharusan. Apalah artinya dekorasi di hari penuh cinta tanpa sentuhan bunga-bunga? Baik untuk pesta di luar ruangan atau di dalam ruangan, penggunaan bermacam jenis bunga menambah keindahan pesta dan memancarkan karya visual dari dekorasi pernikahan yang klasik dan menawan. Apakah tampil dengan bunga-bunga monocolor seperti blue hue atau warna-warna cerah yang ditampilkan dari bunga-bunga tropis, bunga menambah keindahan styling dari sebuah kreasi dekorasi pernikahan bagi kedua mempelai yang berbahagia.
Perpaduan kertas vintage, modern, dan handmade menjadi salah satu karya undangan rancangan Ruang Duarana yang dicetak secara eksklusif. Styling bunga-bunga kertas tiga dimensi bernuansa biru dan abu-abu menambah detail suite yang diabadikan dengan cantiknya oleh Morden.Co. Dan lihatlah kenang-kenangan kaligrafi pernikahan yang begitu menawan dari The Other Day! Sungguh melengkapi undangan yang terlihat mewah, berkelas, dan sangat personal ini.
Sementara itu, bentuk bulat yang unik dan eksklusif dengan desain dan printing dari House of Pepeterie menjadi menu yang cantik untuk para tamu undangan.
Biru menciptakan nuansa misterius sekaligus menghasilkan visual yang cantik untuk dipandang. Detail-detail undangan, boutonnieres, dan sepatu mempelai wanita terlihat begitu cantiknya dengan penempatan bunga-bunga tiga dimensi yang menawan. Tampilan klasik dari bouquette pengantin dengan sentuhan bunga Anggrek Phalaenopsis dan sentuhan warna putih dari bunga Amaranthus.
Menggabungkan bunga-bunga seperti Phalaenopsis, Anthurium, Anyelir, dan banyak bunga lain dengan warna alami untuik mendapatkan rona biru keunguan yang bukan saja cantik tapi juga menawan untuk dilihat. Untuk dekorasi pesta, ambiance yang luar biasa ini tak akan tercipta tanpa pencahayaan yang benar-benar luar biasa dari Lumens. Sebuah kerjasama yang apik dari Behind The Vows, Bloomsville.id, dan Lumens.
We can say `L` is for Love and Blue is for Beautiful!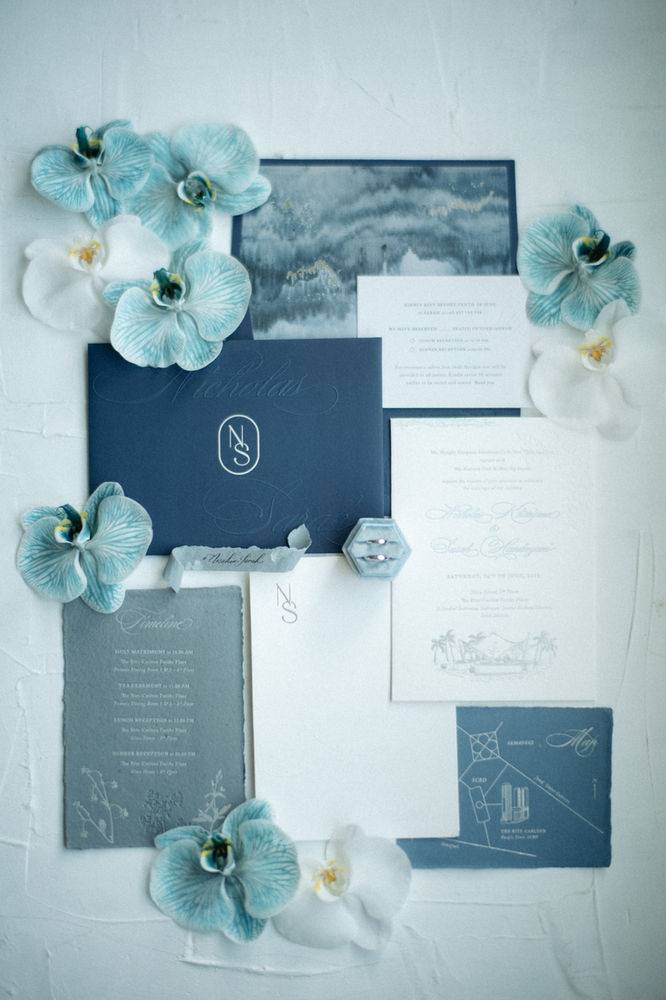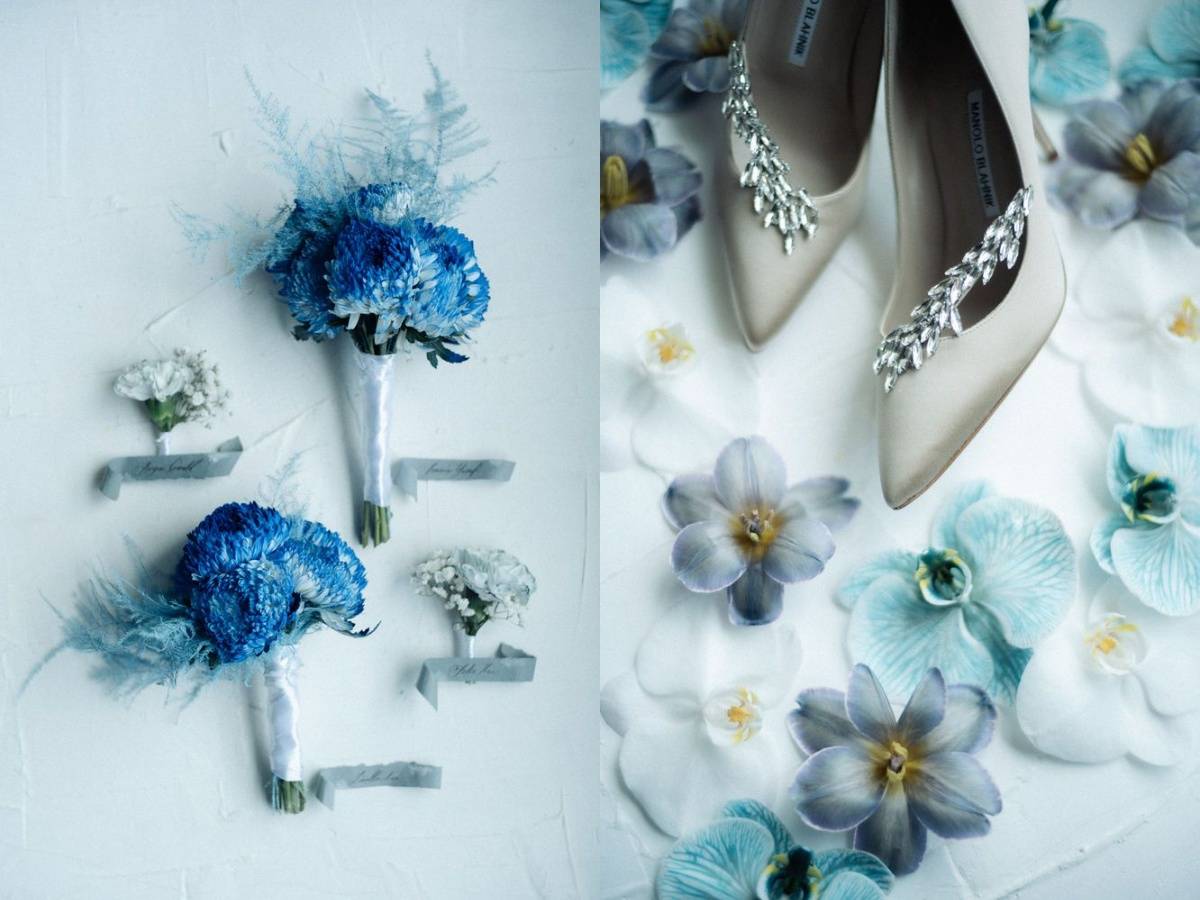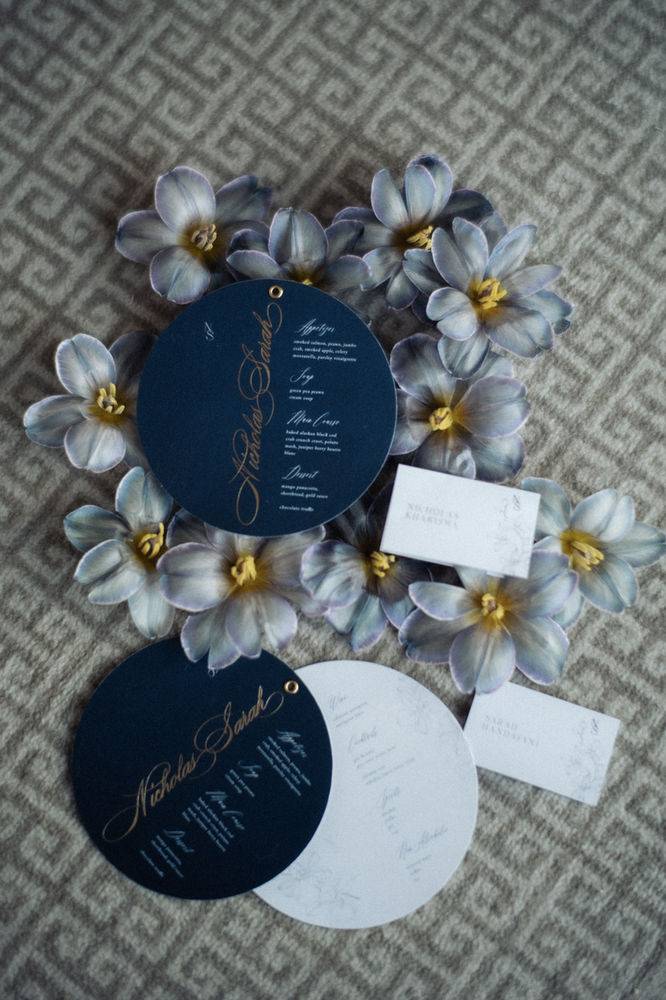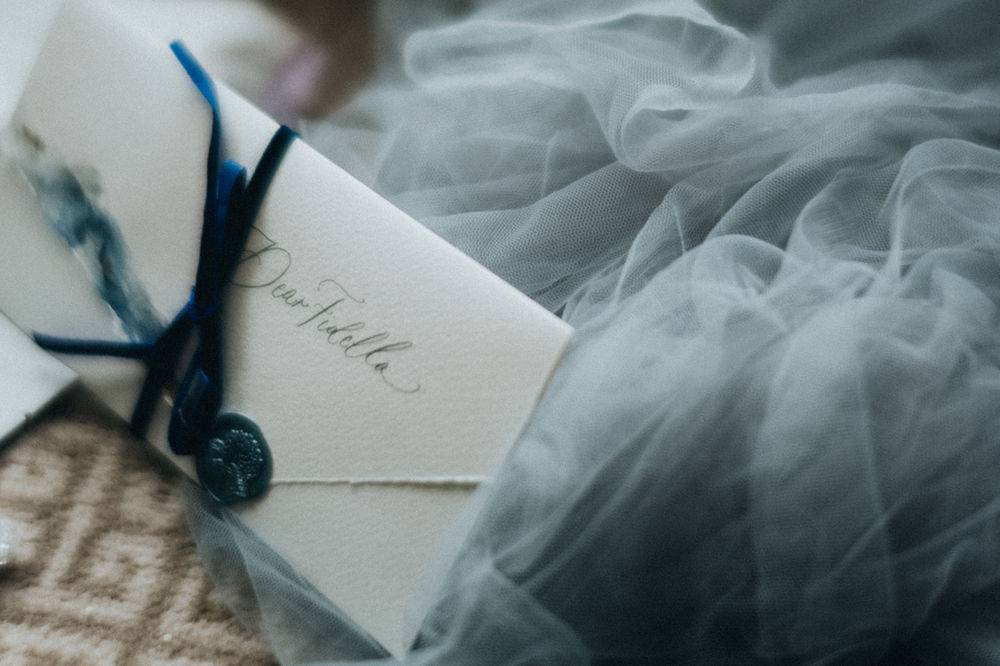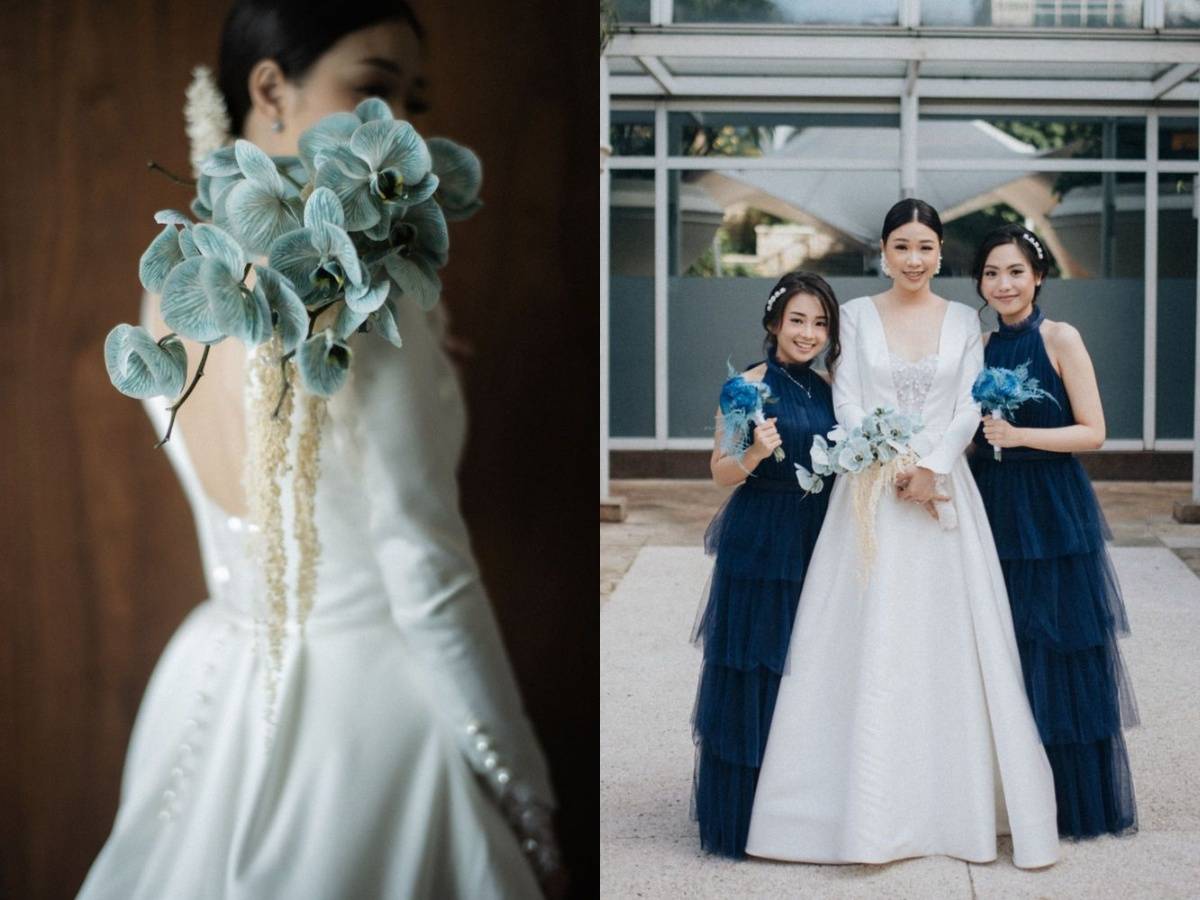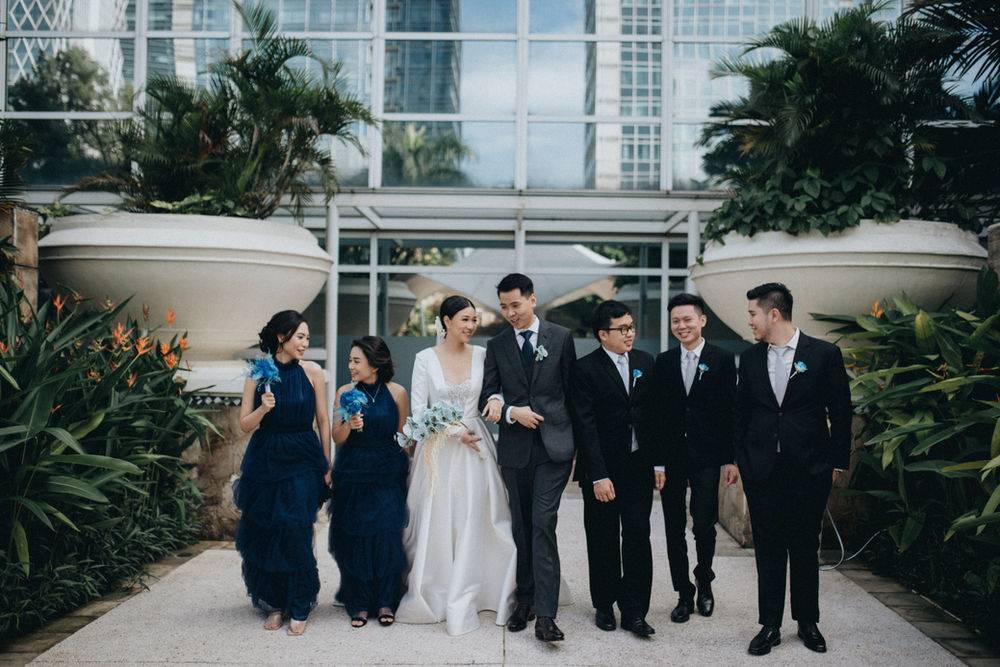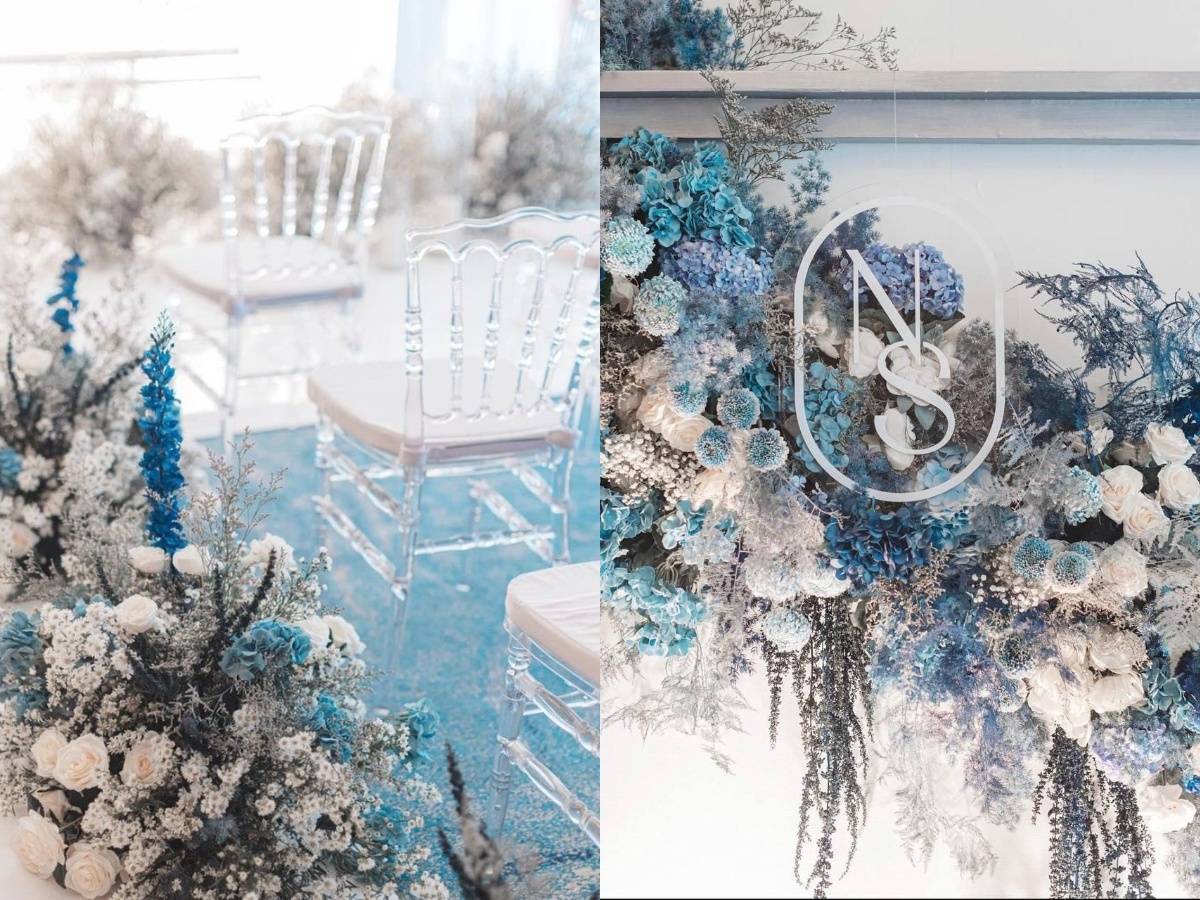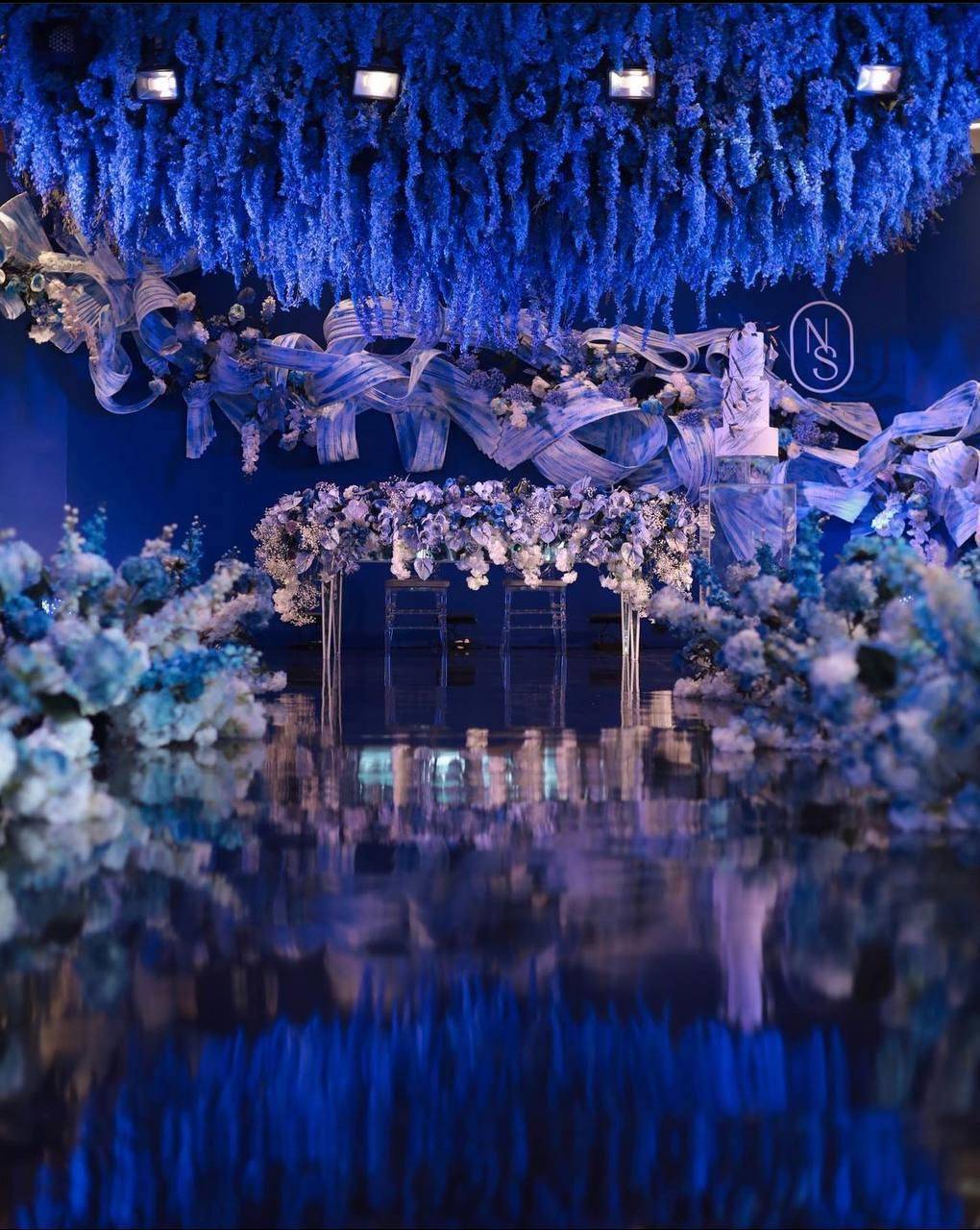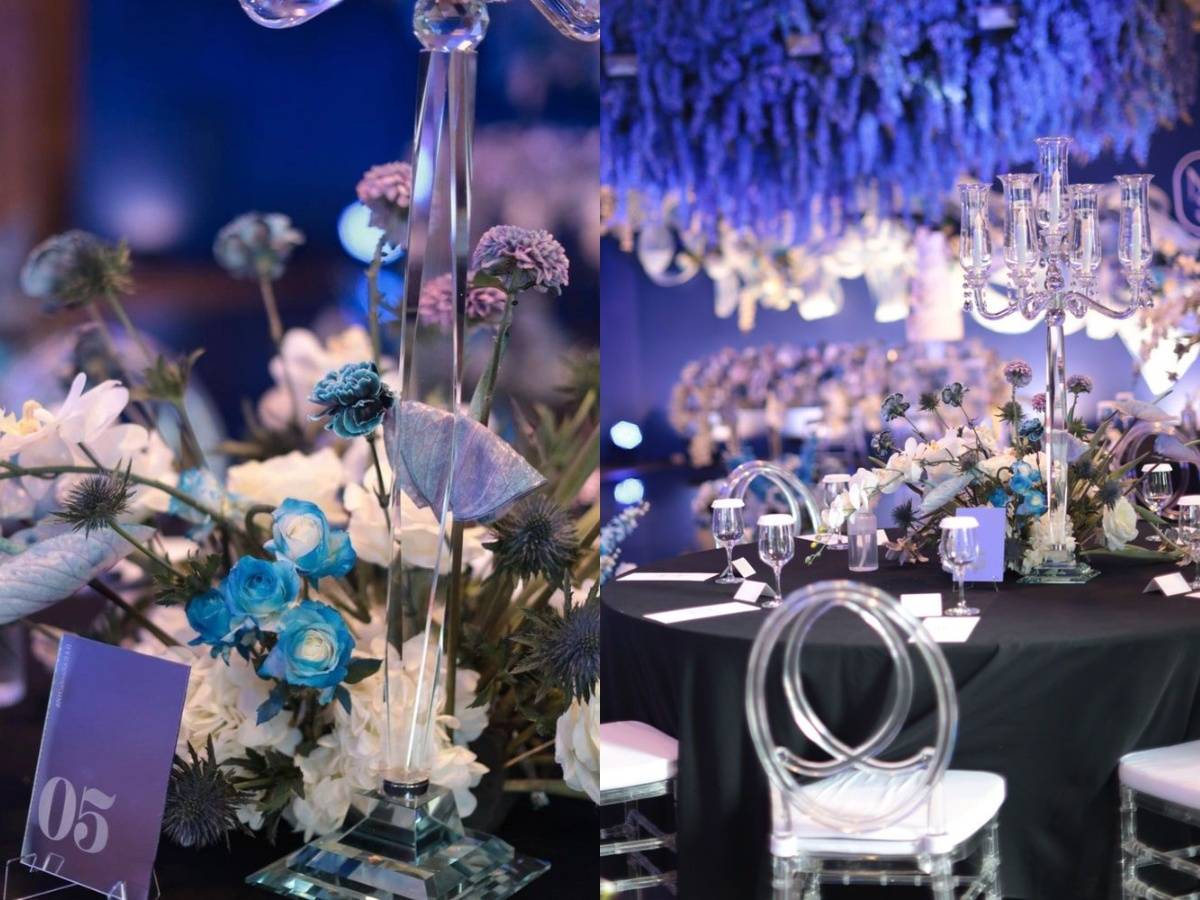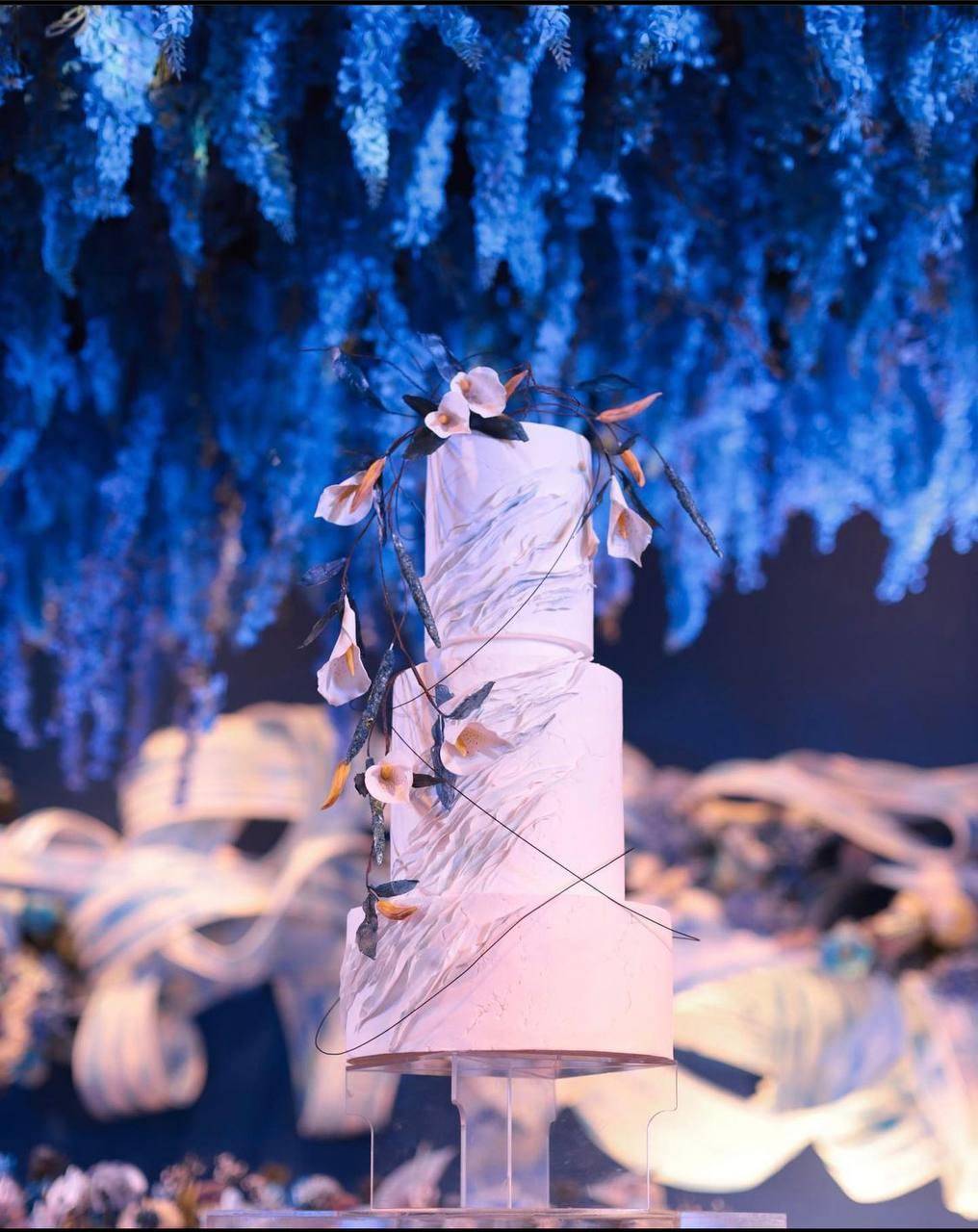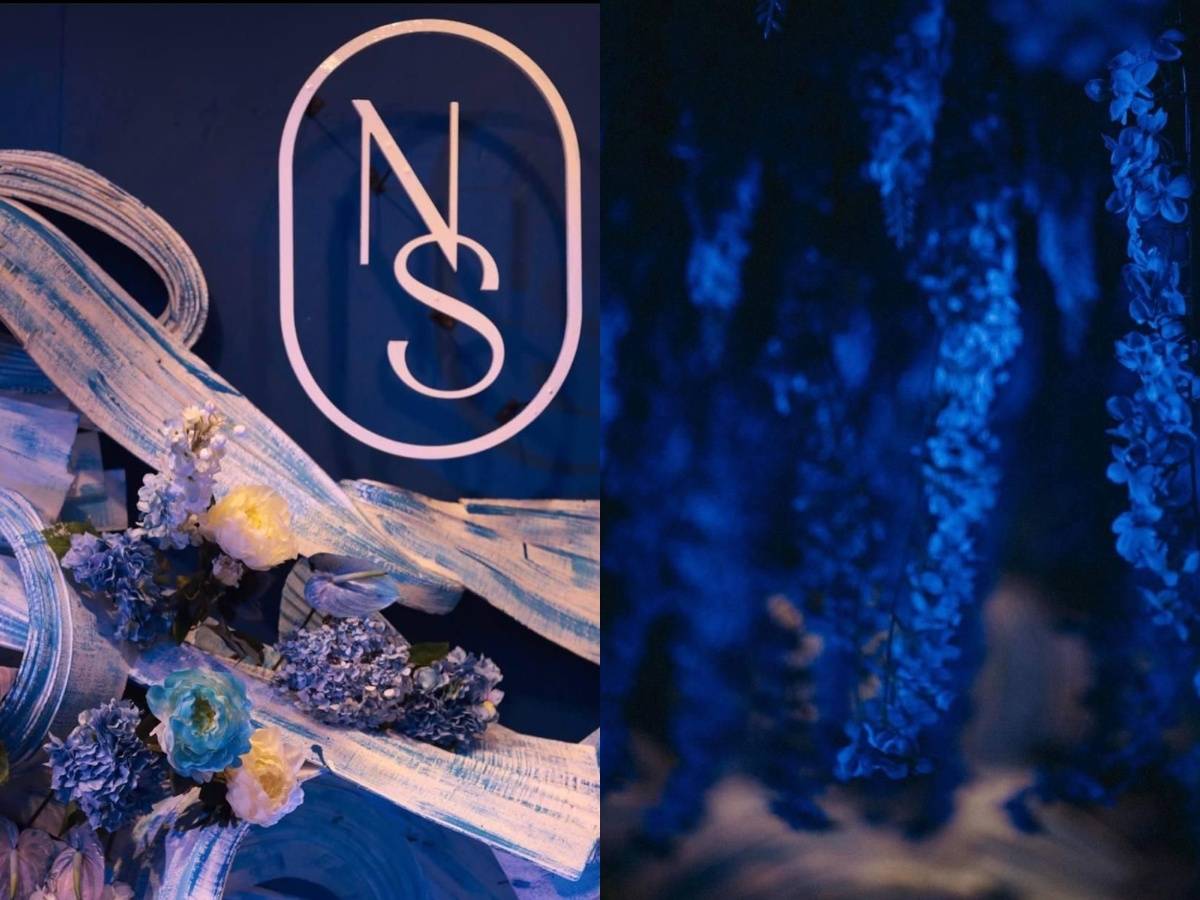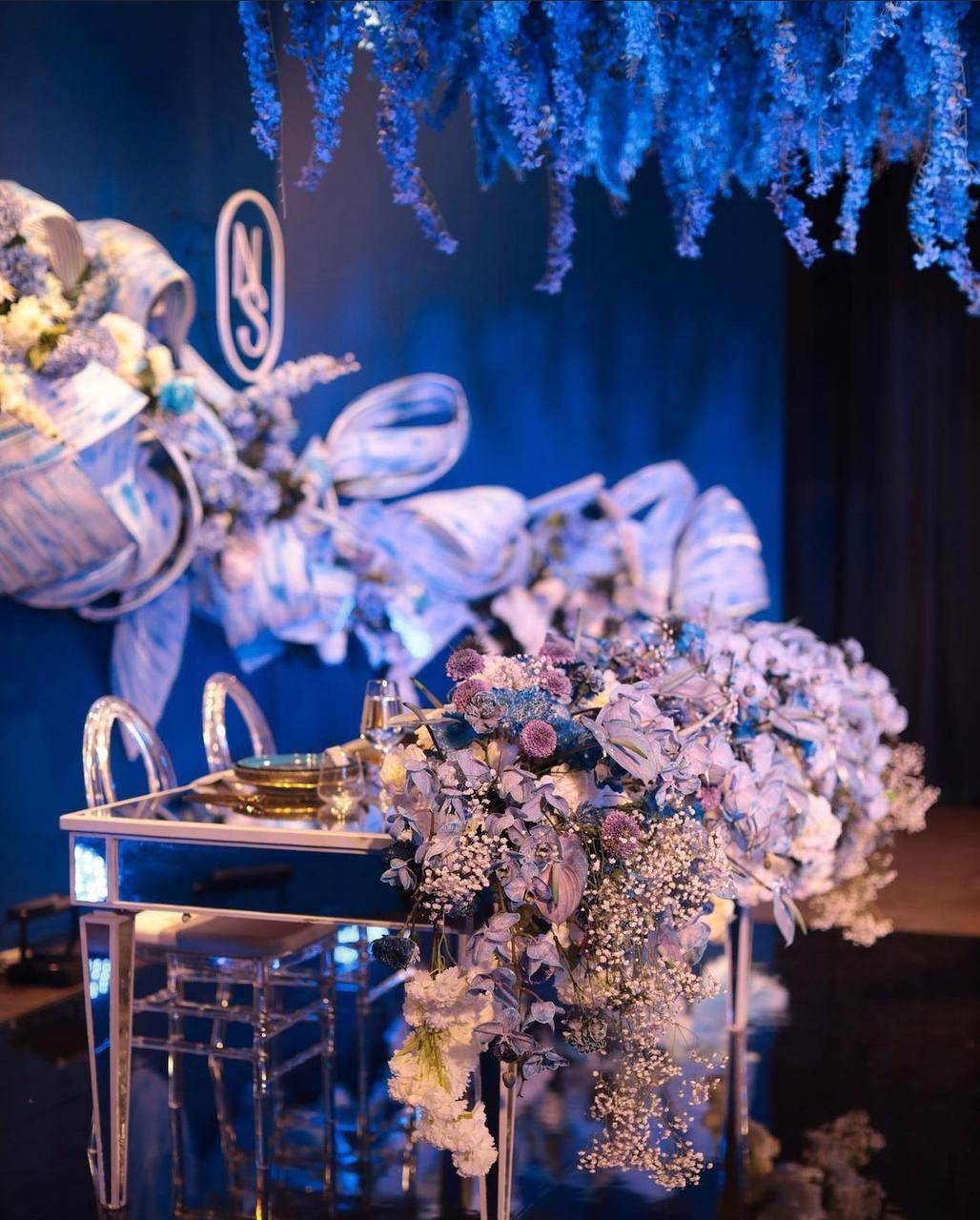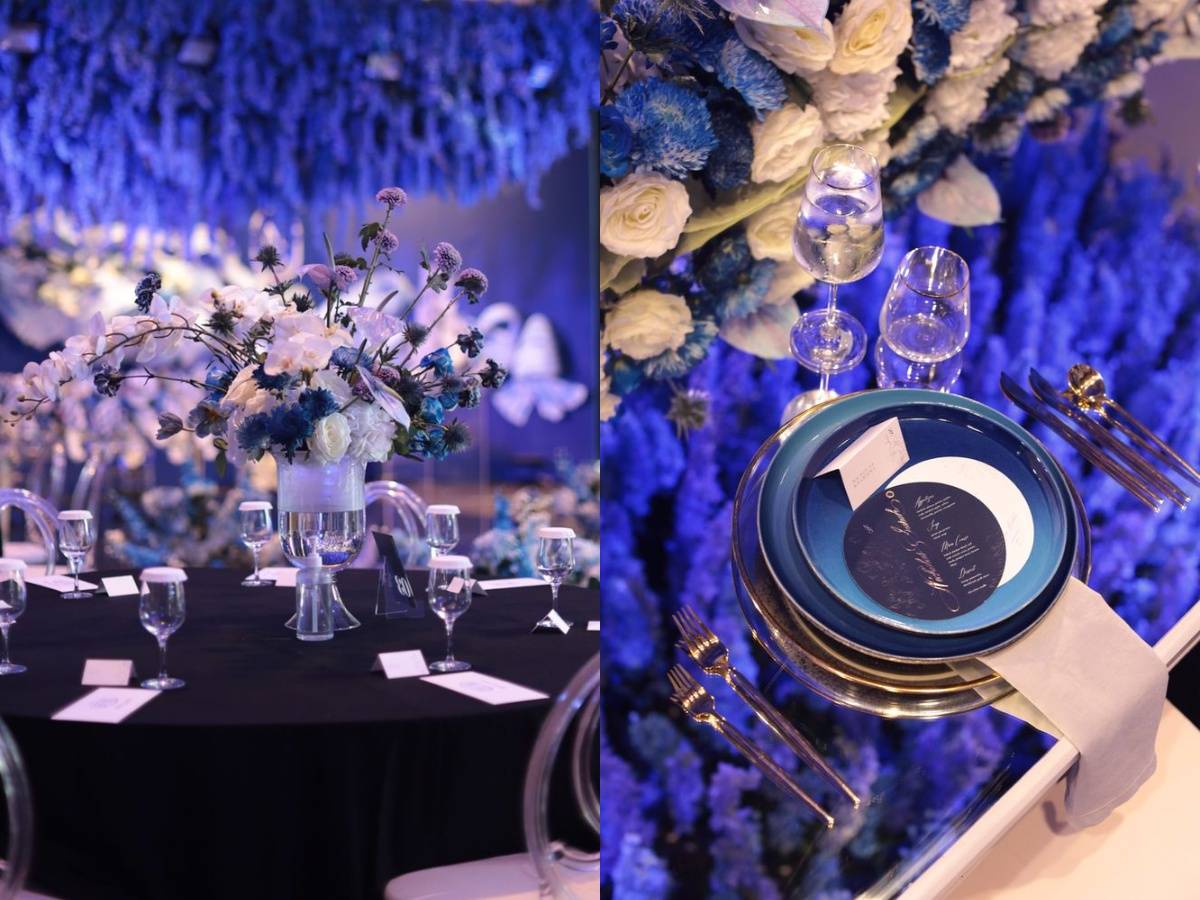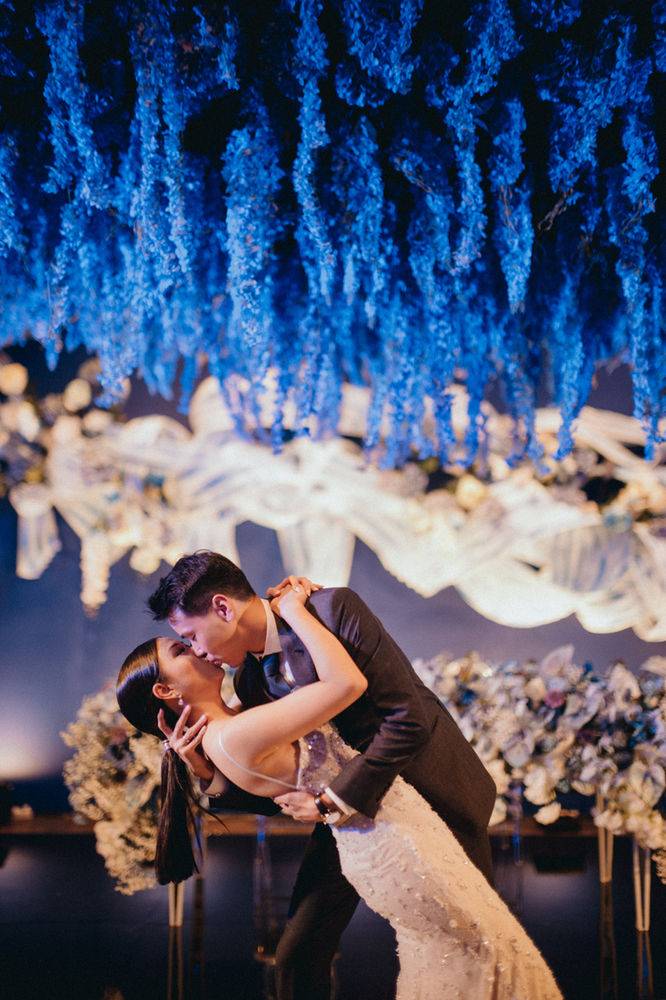 The Wedding of Nicholas & Sarah
Wedding Conceptor & Stylist @behind.thevows |Venue @ritzcarltonpacificplace |Ceremony Decoration @bloomsville.id |Reception Decoration @wonderworks.idn |Lighting @lumens_indo |Photo & Video @morden.co |Candid Photo @kamuaku.photo | Make-up @vgmakeupstudio |Hairdo @sintikehairdo |Gown @msfeliciang |Invitation @ruangduarana |Calligraphy @theotherday.id |Stationery @houseofpapeterie |Tableware @se.meja |Wedding Cake @sweetsalt_id